Thank you for having accepted to act as an abstract reviewer.
Reviewing deadline: Wednesday, May 10, 2023 at 23:59 hrs CEST

1. How do I access the reviewing portal?

To access the reviewing portal, please use the following link.
If you already have an account (due to an abstract submission or registration for a previous ESHG conference) please use your email address and personal password to login.
If you do not have an account yet, please click on the gray "Request password" button, type in your email address and click on "Submit". You will then receive an email to create your own personal password (please also check your spam folder). Please note that from now on you can use this account for registration, abstract submission etc. for the ESHG conference.
To start the reviewing, click on the "Abstract Review" button to access your personal reviewing portal.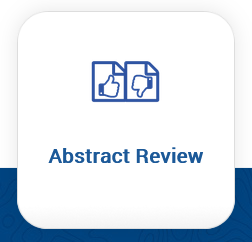 2. How do I score my abstracts online?
On your reviewing portal you have the following options:
Offline review: If you would like to download all abstracts assigned to you as one big PDF file, please click on the blue button "Get my abstracts" in the left top corner and then use the "Download" button which will appear next to it. Please note that it could take a few minutes to download this document. To enter your reviewing results online, please see instructions below.
Online review: Click on the blue "Start abstract review" button if you would like to review directly via the online page. The abstract will be shown to you on the left side of the page.
You can also use the "Review abstract" button next to an abstract to access each abstract separately. The cloud symbol next to each abstract allows you to download one single abstract as a PDF.
To provide your reviewing result, please enter the online review either via the blue "Start abstract review" button or by clicking on any "Review abstract" button next to an abstract. From here you can enter the following information for each of your abstracts:
Score (mandatory!)
Comment: Please enter your comment in the according text box.
Suggest a different category, if you think the abstract was submitted under the wrong category.
Suggest a different persentation type.
Note if you think this abstract has a potential commercial bias by ticking the according box.
Note if you have to abstain from scoring an abstract by clicking the "Conflict of Interest" button bottom left of the page. Please note that this cannot be reversed and the abstract will completely disappear from your list.
Click on "Save & Submit" to access the next abstract. On your reviewing portal the scored abstract will now show up under the section "Scored abstracts".
Please note that you can stop at any time and return to finish reviewing at a later stage.
Scoring Scale:
10: Outstanding
9:  Excellent
8:  Very Good
7:  Good
6:  Above average
5:  Average
4:  Below average
3:  Poor
2:  Very poor
1:  Reject – Extremely weak, duplication of other abstract(s), unethical, wrong meeting
Important: Please note that the presentation type of the submitter (oral, hybrid poster or e-poster) should not be taken into account when scoring. High quality abstracts with preference for poster presentation should be scored with "outstanding" or "excellent" as the score will determine the candidates for the poster awards.
Possible reasons for rejecting an abstract are:
It is completely nonsense or incomprehensible
Contains no results or structure
The science is fundamentally wrong or submitted to the wrong meeting
Reports unethical work
Obvious goal of advertising corporate products or services
If there are more, almost identical, abstracts. Some groups send in a lot of poor-quality abstracts around one topic, with only slight differences (e.g. different regions of the country). Out of these almost identical abstracts, we will accept the best scored one and reject the others.
3. How do I change a score?
Go to your abstract portal. The abstracts that you have already scored will show up under the section "Scored abstracts". Click on the "Edit" button next to an abstract, make your changes and click "Save & Submit" at the bottom of the page. Changes are only possible until the reviewing deadline March 14, 2023.
4. My personal reviewing statistics

At the top of your reviewing portal you can see the following information:
Total number of abstracts assigned to you
Your average rating
Number of abstracts you have already reviewed
Number of abstracts you have refused to score
Top 10 abstracts of all abstracts assigned to you
5. Where can I get support?
For support during the reviewing period, please send an email to conference@eshg.org or call +43 1 405 13 83 -14 between 9.00 – 17.00 hrs Central European Time.
Technical Suppport
If you have any queries regarding the reviewing process, please contact us at conference@eshg.org