Before the conference
On June 8, 2023 you will receive a direct access link by email to log into your live session. Please note that some institutions may not allow you to access the web conference tool on your office device. In this case, please make sure that you have another device ready to use at the given time.You can test the connection via this test link.
On the session day
To avoid echoing disturbances, please make sure that you are not connected to the live stream on the virtual platform before calling into your live session.
Please call in 15 minutes before the actual start of your session.
When clicking on the access link, a technician will welcome you when successfully connected to test your webcam and microphone.
Please make sure you unmute your microphone and enable your camera when your presentation and live Q&A take place, not before.
The tasks of the technician will include the following: performing technical checks, start the pre-recorded presentations, etc.
In the call you will see a camera view of the onsite speaker(s), a camera view of the chairs and other remote speakers in case there are any.
During the session
You will be able to follow the entire session via your personal session link. Please do not watch it via the conference live stream to avoid echoing disturbances.
The chairs will welcome the participants and give a short general introduction. The chairs will give a short introduction of each speaker which is followed by the presentation and a short Q&A. Chairs will take questions from onsite participants and monitor the Q&A box for questions from online participants. These questions will be directed to speakers by the chairs, so speakers do not need to monitor the Q&A box.
Once it is your turn, the technician will start your pre-recorded presentation. After the pre-recording, the technician will broadcast your camera and sound to all participants (online and onsite). The chairs will start asking you questions from the participants. After your Q&A the technician will turn off your camera and sound so that you will not be visible and audible to participants anymore. You can continue watching the session.
After the Q&A of the last talk, the chairs will close the session.
You can then leave the live session call.
Technical Information
Step-by-step instructions on how to join your live sessions
After clicking on your access link, you will be directed to a new page in your browser. In a pop-up message your browser will ask you for permission to use your microphone and camera. Please confirm this by clicking on "Allow".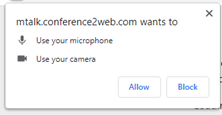 After that, you can select which camera, microphone, and speakers you want to use and test them.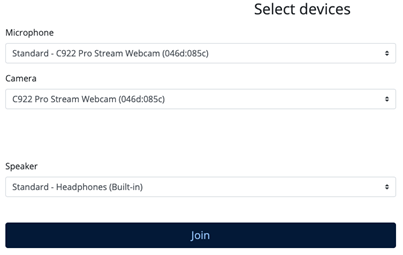 Click on "Join" at the bottom of the screen to join the live session.
Session view in detail
Once you have accessed the live session, you will have four core elements: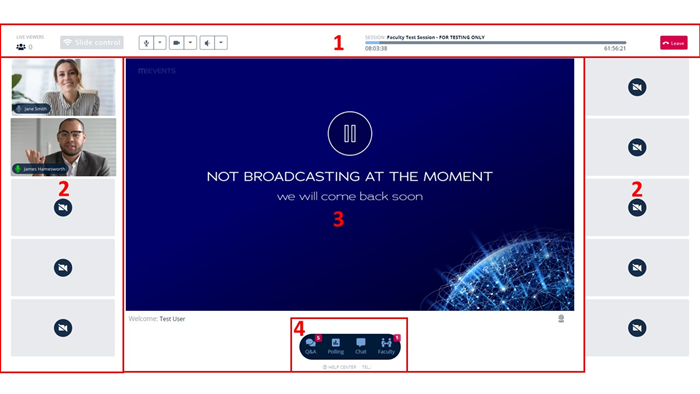 1. Sound and image settings: Here you can mute your microphone, turn your camera on or off and mute the session sound.
2. Camera overview: Here you will see a camera view of the onsite speaker(s), a camera view of the chairs and all other remote speakers who have turned on their camera. Until the start of a session you will also be able to see the technician.
3. Presentation view: Here you can follow the session and see your own presentation. If you are presententing live, your presentation will be put up for you and you will be able to change slides by using your mouse or arrow keys. You can also use your mouse to point out items in your presentation.
Note: You MUST have uploaded your presentation slides in your portal 3 hours prior to the session start so the technician can share these for you.
4. Interaction:
Under "Q&A" you will find the incoming questions from the participants. The chairs will select the questions from here to ask them to the respective presenters.
"Polling" will show voting results if your session contains a live polling part.
By using "Chat" you can exchange information with the session technician and other remote speakers without being seen by the audience.
Under "Faculty" you can see a list of all moderators and speakers who are with you on the session view page.
Technical requirements
Laptop or computer with a webcam and ideally a headset or microphone.
We recommend using Google Chrome as your web browser. You can download it here.
An internet connection with 5Mbit up- and downstream bandwidth.
In case you are using anti-virus software, please make sure that it is not blocking you from opening the session view page. You can check that by clicking on the "Session access link" in your invitation email.
Please do not use any mobile devices for live sessions as only laptops and computers ensure best usability.